Bruce Springsteen hits a home run at Wrigley Field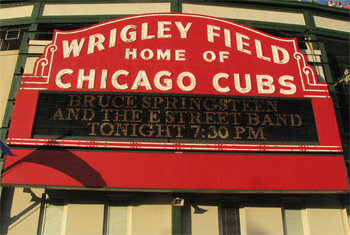 There was some good things happening at Wrigley Field on September 8th and 9th. Unfortunately, for Cubs fans it was not baseball. For music lovers it was Bruce Springsteen and the E Street Band. I was lucky enough to attend both shows despite the ridiculous ticketing obstacle course you now have to go through to see popular acts. It is funny how you pay almost a third of the overall cost to a ticketing monopoly that does not even pretend to play a tambourine.
Bruce and the band were joined both nights by Tom Morello and Eddie Vedder. Saturday nights special guest was rain. I have to admit rain has been making a lot of special appearances at concerts lately.
Highlights for me ranged from Out In The Street on Friday to seeing the one two punch of E Street Shuffle and Pay Me My Money Down on Saturday. It was a weekend of great music by a great band.
The pictures are from my seat on Saturday evening that was three rows from the back in the upper deck along the third baseline. These seats were actually closer than my seats on Friday. Should I call this gallery "A View From Way Back"?
Friday Set List:

Prove It All Night
My Love Will Not Let You Down
Out in the Street
Hungry Heart
We Take Care of Our Own
Wrecking Ball
Death to My Hometown
My City of Ruins
Spirit in the Night
Trapped
Jack of All Trades
Atlantic City
Lonesome Day
I'm Goin' Down
Darlington County
Shackled and Drawn
Waitin' on a Sunny Day
None But the Brave
The Ghost of Tom Joad
Badlands
Land of Hope and Dreams
We Are Alive
Thunder Road
Born to Run
Dancing in the Dark
Jungleland
Tenth Avenue Freeze-Out
Twist And Shout

Saturday Set List

The Promised Land
The Ties That Bind
No Surrender
Hungry Heart
We Take Care of Our Own
Wrecking Ball
Death to My Hometown
My City of Ruins
The E Street Shuffle
Pay Me My Money Down
This Depression
My Hometown
Darkness on the Edge of Town
Because the Night
Working on the Highway
Shackled and Drawn
Waitin' on a Sunny Day
Who'll Stop The Rain
The Ghost of Tom Joad
Badlands
Thunder Road
Rocky Ground
Born to Run
Rosalita (Come Out Tonight)
Dancing in the Dark
Tenth Avenue Freeze-Out
American Land