Farm Aid
Sunday, September 22, 1985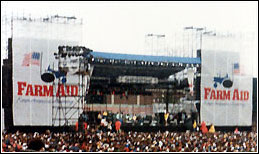 According to the Farm Aid website (www.farmaid.org) the mission of Farm Aid is "to keep family farmers on their land. Family farmers are our only guarantee for fresh, local food. Our goal is to bring together family farmers and citizens to restore family farm-centered agriculture. Family farmers ensure safe, healthful food, protect natural resources, and strengthen local economies".
I do not think I will ever again go to a concert with a lineup as large and diverse as Farm Aid. The twelve hour Farm Aid concert took place in Champaign, Illinois at Memorial Stadium on the Campus of the University of Illinois at Urbana Champaign on Sunday, September 22, 1985. This diverse lineup included Farm Aid founders Willie Nelson, John Mellencamp and Neil Young. I have listed the full lineup below.
Highlights of the show included seeing Waylon Jennings, Johnny Cash, John Mellencamp and Neil Young.
Farm Aid Lineup: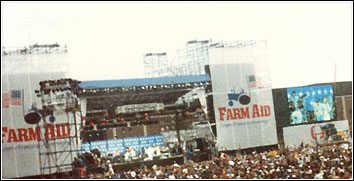 Alabama
John Anderson
Beach Boys
The Blasters
Bon Jovi
Jimmy Buffett
Glen Campbell
Johnny Cash
David Allan Coe
John Conlee
Ry Cooder
Lacy J. Dalton
Charlie Daniels
John Denver
Bob Dylan
John Fogerty
Foreigner
Vince Gill
Merle Haggard & the Strangers
Sammy Hagar
Daryl Hall
Don Henley
Waylon Jennings
Billy Joel
George Jones
Rickie Lee Jones
B.B. King
Carole King
Robbie Krieger
Kris Kristofferson
Lone Justice
Lorreta Lynn
Delbert McClinton
John Mellencamp
Roger Miller
Joni Mitchell
Willie Nelson and Family
Randy Newman
Nitty Gritty Dirt Band
Roy Orbison
Tom Petty & the Heartbreakers
Bonnie Raitt
Lou Reed
Kenny Rogers
Johnny Rodriguez
John Schneider
Bryan Setzer
Southern Pacific
Tanya Tucker
Eddie VanHallen
Dottie West
Winter Brothers
X
Neil Young & International Harvesters